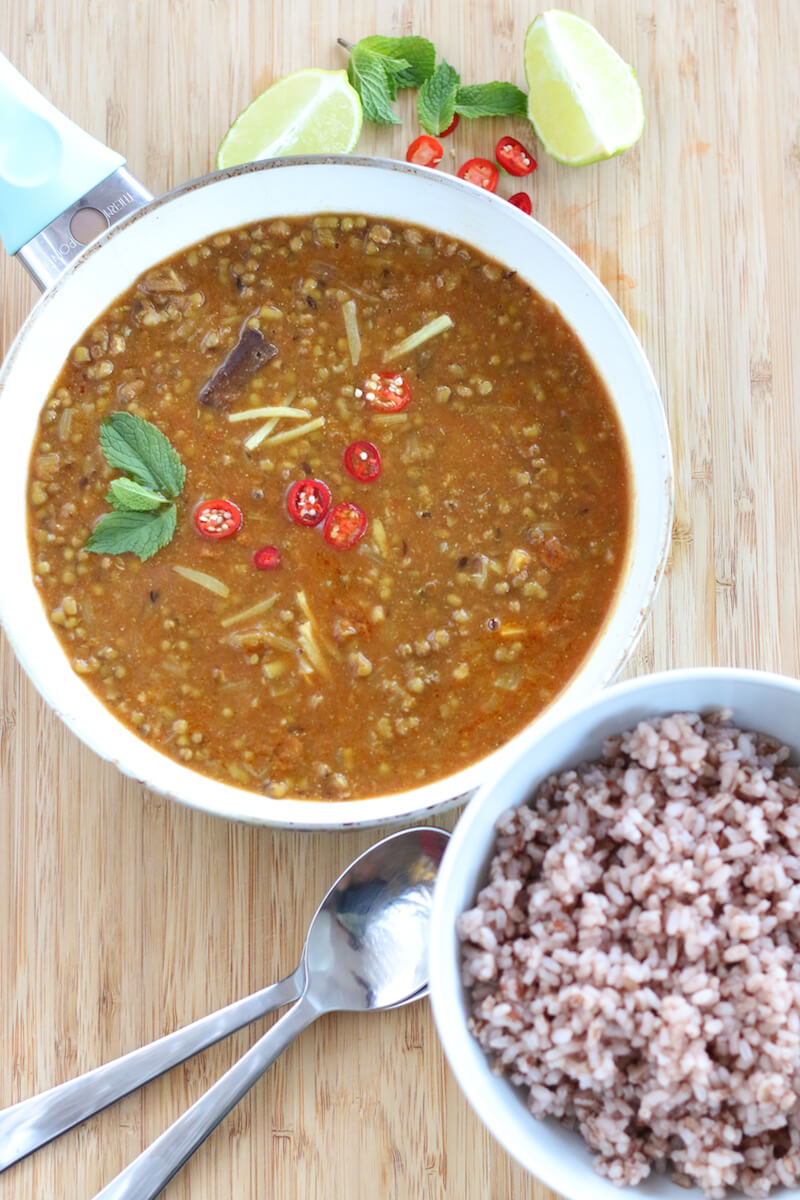 Whole green moong dal has an earthy taste and in this recipe the flavours are enhanced by cooking with whole spices like cinnamon, bayleaf, peppercorns and cloves. Unlike yellow moong dal or moong dal chilka, each bean stays firm even after long cooking, making it ideal for curries, lentil salads and of course sprouting.
This time in our Goa vacation we explored traditional Goan cuisine — xacuti, cafreal, sannas, saansav etc. Very delicious but by the 4th day I needed some comfort food and cooked some green moong dal-chawal at the apartment we were staying at :-).
Pure bliss.
Whether it is a long day or a long travel one is coming back from, there is nothing more comforting than a warm bowl of dal-chawal. No matter where we go and how much fusion and international food we eat, after some 3-4 days, every Indian (especially North Indian) will start to crave for the familiar taste of dal or lentil curry.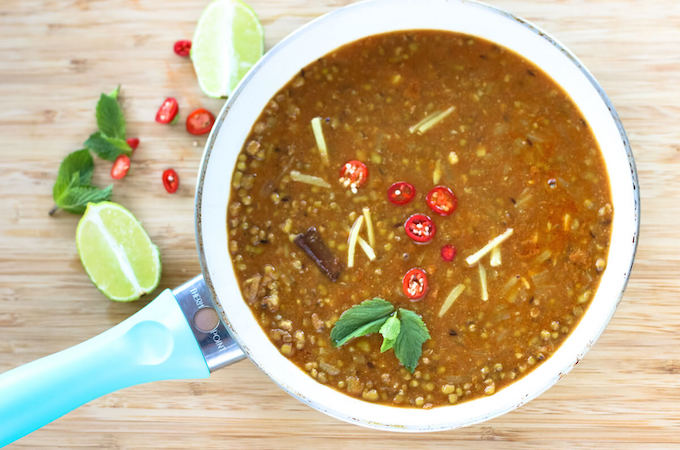 In India, we have a large variety and sub-varieties in lentils. Moong dal or mung bean is one such lentil. It is used as whole green, split but not skinned as well as skinned yellow mung dal. As are the varieties so are the plenty of lentil recipes. Even a simple lentil curry recipe with each is different in taste and preparation.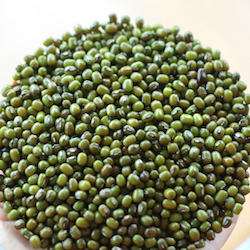 Mung bean is a rich source of protein. The whole green moong dal with its skin has a lot more nutrition than skinned yellow moong dal. Along with proteins, green mung bean is rich in dietary fibre, antioxidants and phytonutrients. Because of its high nutrient density, whole green mung beans help fight against many diseases including cancer, diabetes, heart diseases and obesity.
All dried lentils cook better when soaked for 1-2 hours before cooking. Whole lentils like green gram and black gram and other legumes like chickpeas, kidney beans etc need longer soaking times of about 6-8 hours (best overnight). Soaking pulses reduces their cooking time and also ensures that they can be easily digested and their nutrients are better absorbed in the body.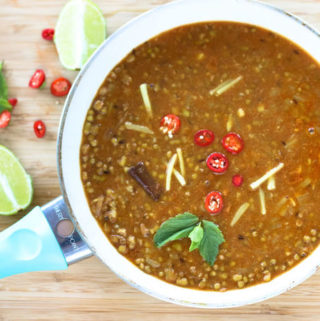 Sabut Moong Dal/ Whole green Mung Bean curry
Whole green moong dal has an earthy taste and in this recipe the flavours are enhanced by cooking with whole spices like cinnamon, bayleaf, peppercorns and cloves. Unlike other lentils, mung bean stays firm even after long cooking making it ideal for curries, salads and sprouting.
Ingredients
1

cup

sabut moong dal

green mung beans, soaked overnight

1

onion

chopped

2

tomatoes

puréed

2

cloves

of garlic

grated

1

inch

ginger

grated

1

tbsp

ghee/oil

1

inch

cinnamon stick

2

black peppercorns

2

cloves

1

bayleaf

1

tsp

cumin seeds

1

tsp

turmeric

1

pinch

asafoetida

Salt to taste
To garnish:
Fresh Ginger

cut into slivers

Red Chilli

sliced

Fresh mint
Instructions
Wash the moong dal under running water and then soak in 3 cups of water for at least 4 hours (or overnight).

Drain and add the dal to a pressure cooker. Add 3 cups of water, some salt and ½ tsp turmeric. Close the lid and pressure cook the dals on medium-high heat for 3-4 whistles (about 10-15 mins). Remove from heat and open the cooker only after all the steam has escaped on its own. Alternately cook them in a stock pot for about half an hour until the dals are tender.

While the dal is cooking, heat ghee/oil in a separate pan. Once the ghee is hot, add asafoetida, cumins seeds, cinnamon, cloves, peppercorns and bayleaf. Sauté for a minute.

Add garlic, ginger and onions. Sauté for 2-3 minutes till the onions start to turn soft and translucent. Add the tomato purée, salt and turmeric powder. Mix well and cook open for another 5 minutes till the onion-tomato mix is cooked.

Once the dal is cooked, add the onion-tomato masala mixture to the dal. Mix well. Cook for another couple of minutes.

Garnish with fresh ginger, coriander leaves and red chillies and serve hot with rice or roti.
Connect with me
What is your favourite lentil and lentil recipe? When you try this recipe, let me know how it went and tag me with #weekendkitchen on instagram or connect with me on Facebook, Twitter, Google+, and/or Pinterest.
Would love to start a conversation, share recipes, cooking experiences and food stories from India and around the world.