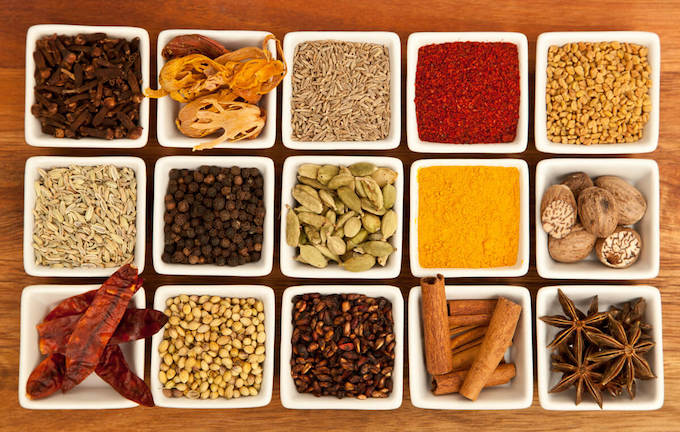 This is an ongoing list of names of Indian spices in English and Hindi. India is home to a large variety of spices that are used not just in Indian recipes but in recipes around the world. It is an amazing journey down history if you want to trace how travelers introduced new spices across borders. India was at the heart of the Spice Trade. Indian spices were (and still are) always the coveted item in many merchant cargos.
As a kid, I remember looking into my mom's metallic round spice box (which I recently replaced with this beautiful Tupperware Red Spice Box
) with their little containers and smelling each of the spices.
Most recipes, especially online, use spice names in English. Very often I would come across an English word for an Indian spice and be at a loss. For example, I read about using caraway seeds in a bread recipe and only when I saw the seeds that I realized they were actually shahi zeera which can easily be substituted with common black cumin. That's when I decided to make an Indian spices list with their Hindi and English names.
I am glad that so many people, from bachelors to seasoned cooks, have found this list helpful. This glossary is not definitive and definitely not complete. It is more like a "living document" that needs your knowledge and contribution. It is a work-in-progress. I would also like to create a spice list with pictures sometime in future. Let me know if you would like that!
List of Indian Spices names in Hindi and English
| ENGLISH | HINDI |
| --- | --- |
| Asafoetida | hing |
| Basil | Tulsi |
| Bay Leaf | Tej Patta |
| Black Pepper (or White Pepper) | Kali Mirch (or Safed Mirch) |
| Black Salt/ Himalayan Rock Salt/ Pink Salt | Kala Namak/ Sanchal/ Sanchar powder |
| Cardamom | Elaichi |
| Carom seeds, thymol, Celery seeds | Ajwain |
| Chia seeds | Sabza |
| Chilli Powder | Mirchi powder (usually red chilli/ lal mirch) |
| Cinnamon | Dalchini |
| Cloves | Laung, lavang |
| Coriander/Cilantro | Dhania |
| Cumin, Caraway seeds | Zeera, jeera |
| Curry Leaves | Kadi Patta |
| Dill | Suva Bhaji |
| Dry mango powder | Amchoor |
| Fennel | Saunf |
| Fenugreek | Methi |
| Flax Seed | Alsi |
| Garlic Powder | Lahsun Powder |
| Ginger Powder | Adrak Powder |
| Gooseberry Powder | Amla Powder |
| Lemon Grass | Nimbu Ghaas/Hari chai ki patti |
| Mace | Javitri |
| Mint | Pudina |
| Mustard Seeds | Rai, Sarson |
| Nigella Seeds | Kalongi, Mangrela |
| Nutmeg | Jayphal |
| Peppercorns | Kalimirch |
| Pomegranate seeds | Anar dana |
| Poppy seeds | Khas khas, post dana |
| Rock Salt | Sendha Namak |
| Rose Petal conserve | Gulkand |
| Saffron | Kesar, Zaffran |
| Sesame seeds/Gingili seeds | Til |
| Star Anise | Chakri fool (by popular votes!) |
| Tamarind | Imli |
| Turmeric | Haldi |
These spices are individual spices, but a lot of times in the spice rack of your grocery store, you would find spice mixes like garam masala, chole masala, rajma masala, nihari masala etc. These spice mixes, especially the ones that are specific to a dish, don't really have a corresponding English name except for translating that dish into English. For example you may call chole masala as Chickpea curry spice mix. These spice mixes are not part of this list.
If you know about a spice that is missing here or needs correction or if there is an Indian spice (or any other spice) that you cannot find a corresponding Hindi/English name; do let me know through the comments.
Connect with me
If you try this recipe, I would really love to know how it went. Tag your picture with #weekendkitchen on instagram or connect with me on Facebook, Twitter, Google+, and/or Pinterest.
Would love to start a conversation, share recipes, cooking experiences and food stories from India and around the world.