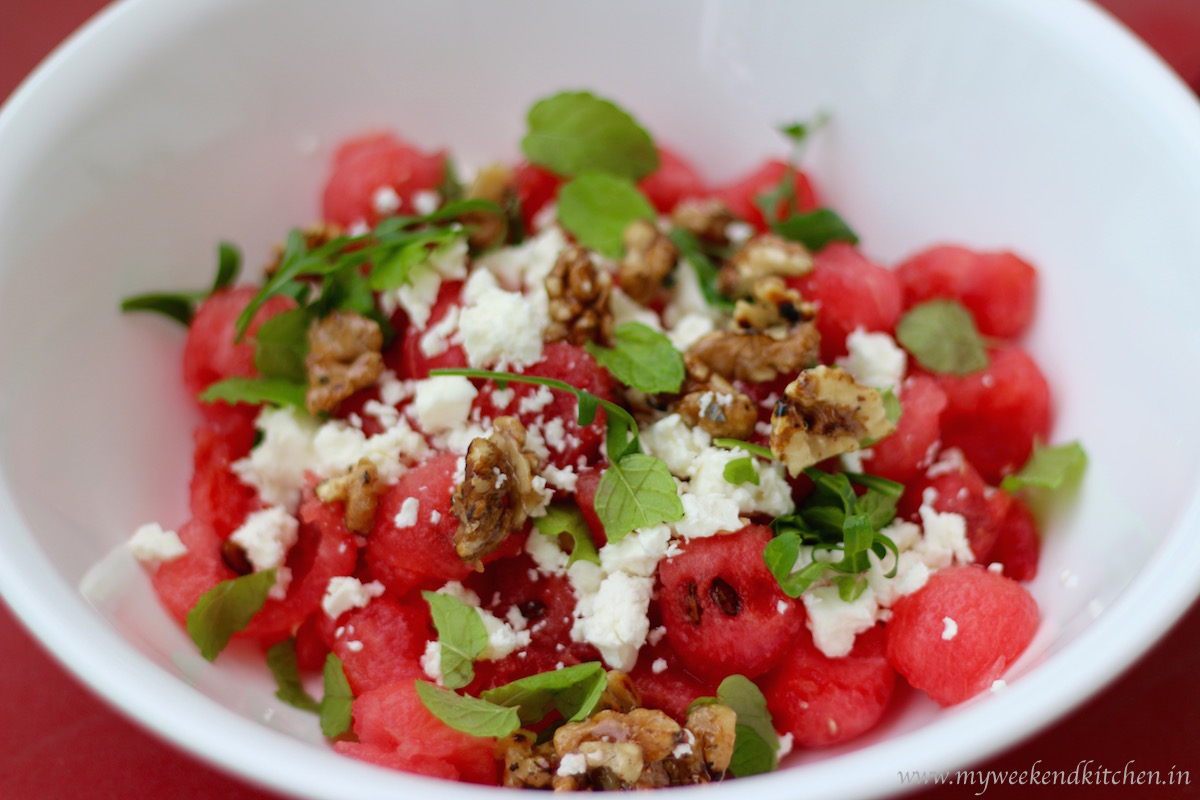 This cool and refreshing watermelon and feta salad is perfect to beat the heat of the summer months. Sprinkled with caramelised walnuts and fresh mint and rocket leaves it is a beautiful combination of flavours.
Takes just about 15 minutes to make and pack and makes a perfect mid-day snack or a BBQ starter.
I am not a big fan of summers but they are the months with the best fruits out there. The hotter it gets, the juicier the watermelons and the cantaloupes and the mangoes and everything else gets. As kids, we used to spend our entire 2 months summer break at our nani's (maternal grandmother) home. All the cousins. One constant thing was a big huge watermelon everyday. And we would eat it with our mouths dug into the slices.



I still do that often but well in office it usually is a nicely boxed up watermelon salad.
Watermelon Feta Salad
By Ashima Goyal Siraj
Preparation time: |Cooking Time: |Serves: 2
1 Watermelon (~1 Kg)
1/2 cup feta cheese, crumbled
1/4 cup walnuts
2 tbsp honey
1/2 cup fresh mint and rocket leaves, roughly chopped
Black salt to taste
In a small pan, dry roast the walnuts on low heat. Add honey and coat them well. Remove and leave to cool.
Cut the watermelon into half and scoop out bright red balls into a bowl.
Mix in all the ingredients. Toss and sprinkle with black salt.

Black salt (actually pinkish in colour) is known for its cooling properties and very often used in summers. If you don't have black salt, use regular salt or coarse sea salt.

Keep in fridge to chill for about half hour before serving or pack and carry to work.