Idli Sambar finds its origin in
South India
but is now popular all over the country and outside. We enjoy it as a breakfast, a snack and also a light lunch/dinner. In India, it is so popular that one can find Idli-sambar being sold by roadside vendors as well as in sit-down restaurants.
Idli is a steamed lentil and rice cake and sambar, a spicy lentil broth with mixed vegetables. I do enjoy idli with just a simple coconut chutney or stir-fried with more veggies to make masala idli but dunking them in hot and spicy sambar, remains the favourite way of eating idlis.

When I was working in Bangalore, 5 out of 7 days my breakfast used to be idli-sambar at a joint right opposite my house. It is tasty, simple, light and healthy, making it a perfect choice for breakfast. But it is delicious any time of the day making it a popular "all-day breakfast" dish.
This recipe of idli is with homemade batter. The idli batter is made by fermenting rice and urad dal for almost a day. There are many variations to this humble dish. You can make idli batter with ragi (finger millet) and lentils or with rava for instant idlis. You can also add some veggies inside the idli batter.

While this rice idli recipe only takes about 30 mins to cook, the process of fermentation, for the batter, takes more than a day and so you do need to plan it ahead. In India, it is easy to buy fresh batter whenever needed but it is not so here in Bucharest. Also, homemade batter is best. It is fresh and free from all extra additives. There are also instant rice idli mixes in the market, but I keep them only for a rainy day. Idlis made with homemade batter are much softer, fluffier, tastier and healthier than those made with shop bought mixes or batter. A little bit of planning is totally worth it.
You will need a special idli mould to make this recipe. I actually have 3 types of idli makers in my house! A microwave idli maker, an idli making stand that came with the rice cooker and also a stovetop steamer with idli mould. I find the stovetop one most convenient. It makes 16 idlis at one go.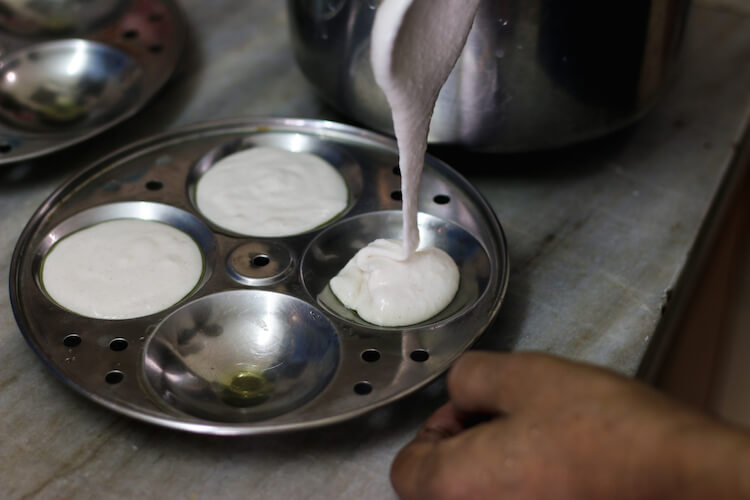 If you like this recipe, do take a moment to rate it below and/or leave your thoughts after the recipe. It really encourages me to keep improving.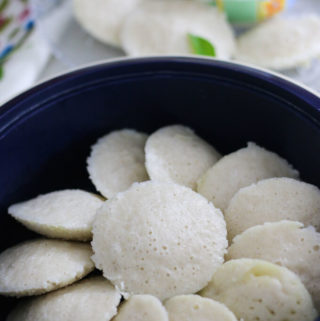 Rice Idli recipe & homemade Idli batter
A simple recipe to make the traditional rice idli with homemade idli batter using rice and urad lentil. Light, simple and healthy it is enjoyed as an all-day breakfast dish with hot sambar and chutneys.
Ingredients
2

cups

rice

(it is ideal to use broken sela rice or other small grain rice variety)

1

cup

white urad dal

(skinned black gram)

2

tsp

salt

1

tbsp

oil
Instructions
To make the Idli Batter
Wash the rice and dal separately. Soak them, separately, in enough water for 4-5 hours or overnight.

Drain the rice and with little water, grind them to a coarse paste in the mixer.

Drain the dal and again adding water little by little, grind it to a fine paste. While the rice paste is coarse, the lentil paste is very fine. Grind it till there are bubbles in the paste. Add water accordingly but not too much.

Mix together the rice and lentil paste. Add in salt. This batter should be of thick dropping consistency. Keep the batter in a warm place for 8-10 hours (or overnight). The batter will rise and become sour.

This entire passive process takes about 24 hours or so.
To make the Idlis
Gently mix the batter once. Don't mix it vigorously or too often as it would remove all the air in the batter. Rub a little oil on each of the idli moulds.

Drop spoonfuls of batter in each mould. Add about 1" deep water in your idli steamer. Place the idli stand in the steamer and close. Steam on high for 5 minutes.

Reduce heat and steam on low for 10 minutes. Open the steamer carefully and check the idli by inserting a clean knife. If the knife comes out clean, idli is done. Else steam for another couple of minutes.

Remove the steamer from heat and let it stand for 5 minutes. Open and remove the idlis from the mould with a knife.
Recipe Notes
Once fermented, the batter stays good in refrigerator for 2-3 days.
For a variation, add chopped/grated carrots, onions, peas, or capsicum etc to the batter when steaming.
Connect with me
If you try this recipe, I would really love to know how it went. Tag your picture with #weekendkitchen on instagram or connect with me on Facebook, Twitter, Google+, and/or Pinterest.
Would love to start a conversation, share recipes, cooking experiences and food stories from India and around the world.