By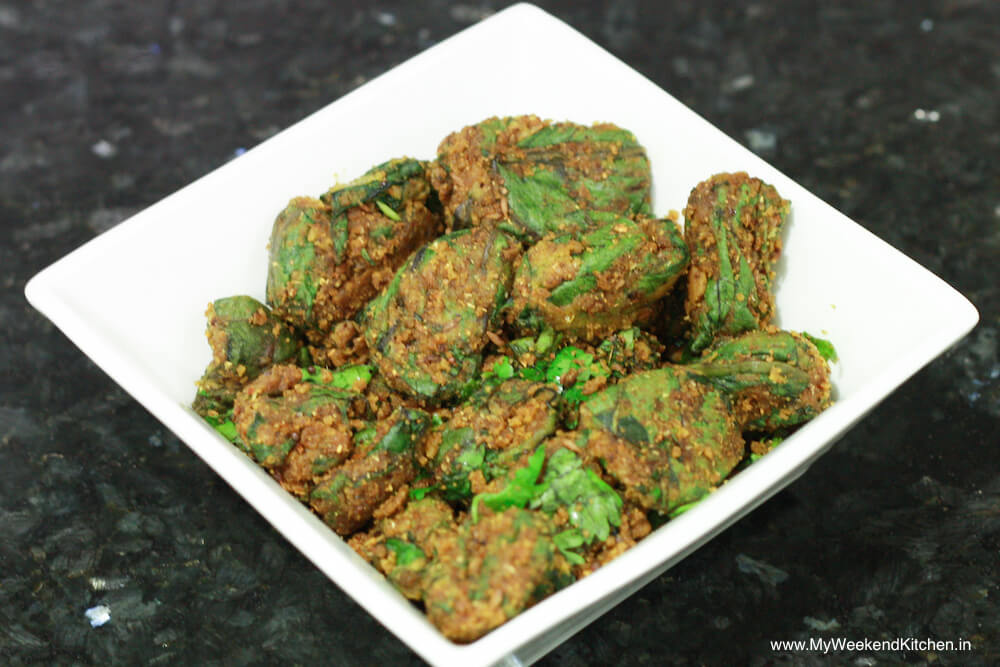 This Arbi ke patte ki sabzi is a nice change from the regular green leaves. In this recipe, huge arbi leaves are rubbed with gram flour paste, steamed, cut and then sautéed in spices. It is great as a snack or an accompaniment.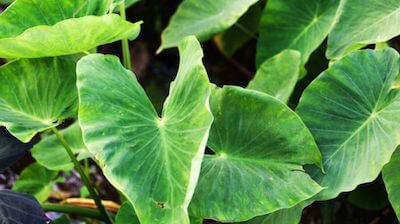 Arbi leaves (or Colocasia/ Taro/ Elephant ears) are huge. I never thought a vegetable as small as arbi will have such big leaves that you can almost use it as a plate! And I would never have known how to cook these huge arbi leaves if it wasn't for my friendly vegetable vendor.
That's right. This recipe for arbi ke patte ki sabzi comes from Vishnu, my vegetable vendor. He saw me looking at these huge leaves, wondering what they are for, and he told me how to cook it. Though it sounded like a lengthy process, it was actually very easy to follow. Similar recipe is used to make patra, which is a very common Gujarati dry snack. This is a lot like fresh patras.
I tried this recipe yesterday and I am so glad about it. I now have one more green leafy vegetable added to my meals.
Arbi ke patte ki sabzi
Preparation time: |Cooking time: |Serves: 4
6-8 Arbi leaves
1 cup Besan (gram flour)
2 tsp Coriander powder
½ tsp Red chilli powder
1 tsp Turmeric powder
1 tsp Garam masala powder
1 tsp Amchoor (dry mango) powder
1 tsp Chaat masala
½ tsp Mustard seeds (rai)
½ tsp Cumin seeds
a pinch of Asafoetida
½ tsp Ajwain
1 Kashmiri red chilli
2 Green chillies
1 tsp Ginger-garlic paste
1 tbsp Fresh coriander leaves
Salt to taste
2 tbsp Vegetable Oil
Cut the stem from the arbi leaves and wash properly, taking care not to break the leaf.
Make a thick paste of besan, salt, garam masala (1/2 tsp), red chilli powder, coriander powder (1 tsp) and amchoor.
Keeping the leaf facing down, apply a layer of besan paste on the back. Roll the leaf in such that the gram flour paste is inside.
Repeat the same for the rest of arbi leaves.
Steam the rolls in microwave or in a steamer for 15-20 minutes until the besan gets cooked.
After cooling, cut the rolls into bite-sized pieces.
Heat oil in a kadai.
Add hing, mustard seeds, zeera and ajwain and let them sputter.
Then add the cut green chillies, ginger garlic paste and the rest of the dry spices.
Sauté for 2-3 minutes and add the cut arbi leaf rolls.
Sauté for 5 minutes and remove from heat.
Sprinkle some chaat masala and fresh coriander leaves.
Approximate Nutrition Information for one serving of Arbi ke patte ki sabzi:
Have you tried other recipes with these big lovely arbi leaves? I would love to learn more ways of cooking them. Leave a comment or connect with me on Facebook, Twitter, Google+ or Pinterest. Would love to start a conversation, share recipes, cooking experiences and food stories from India and around the world.