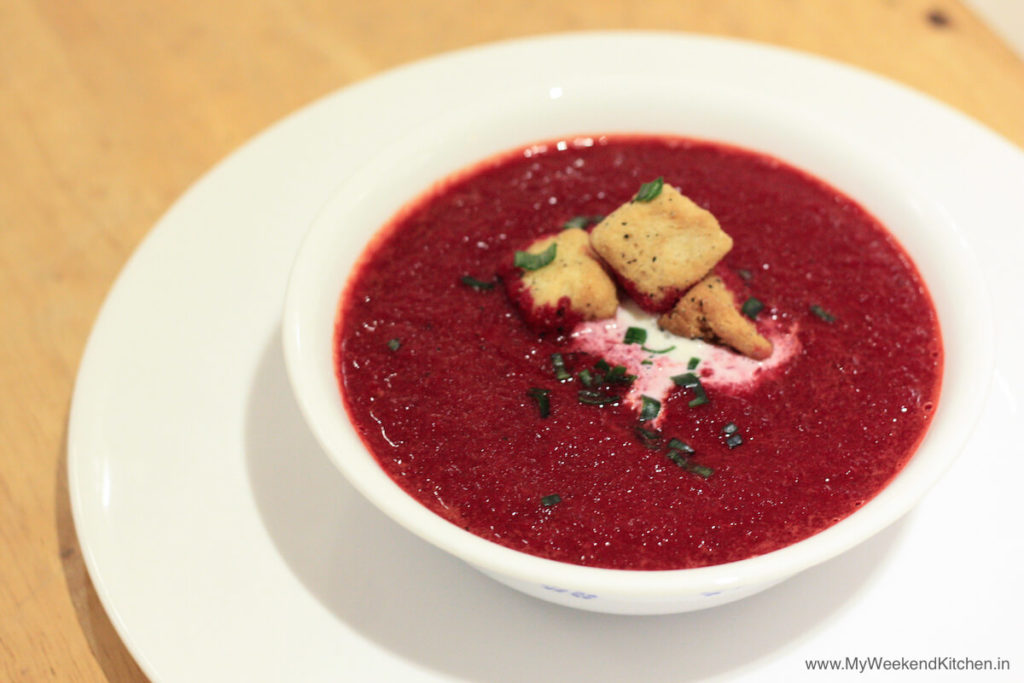 This beetroot soup with vibrant red beets and roasted tomatoes and garlic is delicious to look at and eat. Serve it hot or cold with croutons for the added crunch.
The rich purple-crimson colour of the beets is what attracted me to them first. One of my first beetroot recipe was a salad with spinach, peas and cottage cheese. This was almost 2 years ago! I have to confess I don't cook much with beetroot and this time as I picked up these two beautiful red beets, I promised to try something new.
As I was searching through recipes for beetroot, the only images that talked to me were of beetroot soup. Bright red soup bowls popped out from the screen and that is when I decided to try making the soup. With the weather being a little cold, a soup night is perfect.
I love this beetroot soup recipe. It has a sweet earthy taste. Oven roasted tomatoes and garlic give it a warm aroma and grated beets add a nice texture to the soup. The only thing that I found tedious in this recipe was grating the beetroot. Even though I blend the soup to a puree, in the end, the finely grated beetroot texture is not lost. Highly recommended but if you are short on time, just chop the beets into small pieces.
A lot of preparation work in this soup recipe goes parallel with cooking so it is difficult to separate the time for two but all in all the soup takes about 30-40 mins from start to end.
Red Beetroot Soup
Preparation time: |Cooking time: |Serves: 2 as main
2 beetroots (~250gms), grated
1 onion, chopped
4 tomatoes, quartered
4 cloves of garlic, chopped
Salt and pepper to taste
400 ml vegetable stock
3 tbsps Olive oil
optional garnishing
cream, croutons and spring onion greens
Preheat oven to 200ºC. In a baking dish add tomatoes, quartered. Sprinkle the chopped garlic and drizzle about 1 tbsp of olive oil.
Bake for 20 min.
While the tomatoes are in the oven, you can do the rest of preparation — chop onions and grate beetroots.
Heat oil in a pot. Once the oil is hot, add onions and sauté for 4-5 minutes until the onions turn soft.
In the meantime, the tomatoes would be done so take them out of the oven and leave them on a rack to cool. Once cooled peel off the skin of the tomatoes and mash them with the back of a spoon.
Add the grated beetroot, stock, salt and pepper seasoning to the onions in the pan. Mix well and cook covered for about 10 mins. Occasionally stir the mixture in between.
To this add the mashed tomato. Mix well and cook for another minute.
Remove the soup from heat and process with a hand blender in the pan or transfer the contents to a food processor and blend.
Empty into soup bowl. Garnish with some cream, croutons and spring onion greens and serve immediately!
This soup tastes great even cold. Bring to room temperature and then cool in refrigerator for at least 4 hours before serving cold. It keeps well for in fridge for up to 2 days.
Approximate Nutrition Information for one serving of Beetroot soup:
This recipe is also published on my Indian Express Weekly Food column.
Did you try this beetroot soup recipe? Have you cooked with other kinds of beets? like the beautiful red and white striped beetroot? I would love to know and learn more.
Leave a comment or connect with me on Facebook, Twitter, Google+ or Pinterest. Would love to start a conversation, share recipes, cooking experiences and food stories from India and around the world.