There is nothing better than fresh home-made paneer to take any
paneer recipe
from good to fantastic! It is very easy to make deliciously soft paneer at home. It needs no special equipment; no complicated technique. Maybe that's why it's called 'cottage cheese'; it is THE SIMPLEST cheese to make at home.
Just split milk with something sour like lemon juice or vinegar or yogurt; strain and then hang it to set. Simple. And you will get a beautifully set block of paneer which is great for paneer curry recipes like palak paneer and malai paneer or dry preparations like kadhai paneer or paneer tikka masala.
Home-made paneer is also a great way to use left over milk that has split. You will get a crumblier cheese with that which is great to use as filling in sandwiches or kofta curries.
If you like this simple technique of making paneer or cottage cheese at home, please do take a moment to rate the recipe. It will really encourage me to keep trying and sharing.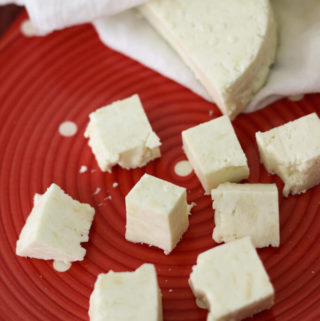 How to make Paneer at home
There is a reason why paneer is called 'cottage cheese'; it is the simplest cheese to make at home. You only need milk, lemon juice/ vinegar or yogurt and a piece of muslin cloth. Just everyday ingredients and kitchen stuff to make delicious soft paneer at home.
Ingredients
1

ltr

full fat organic milk

2

tbsp

lemon juice

, (or vinegar)
Instructions
In a heavy bottomed sauce pan, bring the milk to a boil.

Immediately add lemon juice or vinegar and continue to boil on low flame. Stir continuously till the milk curdles and separates from the whey (the water left from the milk).

(Even if the milk has split on its own on boiling, add lemon juice to ensure that all the protein is extracted.)

The whey would become yellowish green, which means there is no more protein left.

Using a thick strainer, drain the whey and tie the curds up in muslin cloth tightly to squeeze out more whey. Place the tied muslin cloth under a heavy weight like a pot of water or a heavy mortar pestle for 10-15 mins, so that all the water drains away. You can also hang it at a height.
Recipe Notes
Don't discard the whey. Use it in your curries or dals or to knead dough for breads.
Milk which is split using lemon juice or vinegar will produce a firmer paneer while that split naturally because of being kept for long will produce a softer crumbly paneer.
Immerse the paneer in water and refrigerate to keep fresh for 1-2 days or freeze it.
Connect with me
If you try this recipe, I would really love to know how it went. Tag your picture with #weekendkitchen on instagram or connect with me on Facebook, Twitter, Google+, and/or Pinterest.
Let's start a conversation, share recipes, cooking experiences and food stories from India and around the world.