5-ingredient, delicious and super quick carrot top pesto. It is so perfect that I add it to my soups, my salads and also on my toast. Why do we not get carrots with their tops always?
Recently, I saw carrots with their beautiful green leafy tops in the summer vegetable market in Bucharest. I had never cooked with carrot greens but I thought if they are selling the carrots whole, we surely can eat every part of them. (Later I also checked and yes, carrot tops are edible and actually very nutritious!) I tried a leaf right there. It has a distinct earthy, slightly bitter, sharp and carrot-ish flavour.
Walking back home, my mind was already coming up with ideas on different ways I could possibly eat the carrot greens. Add it to salads and soups or try a pesto and if all fails I can simply add them to my vegetable stock.
This pesto was the first recipe I tried with the carrot leaves and I have fallen in love with it. I now refuse to buy just the orange carrot bottoms if the whole carrot with the lovely tops are available. Why do the grocers remove the greens? What do they do with those carrot tops? Maybe somewhere there is a hidden carrot top pesto factory! They deserve so much more than just being rabbit foods. I am so glad I tried them and thus introduced a whole new green vegetable in my meals.
Carrot Top Pesto
Preparation time: |Cooking Time: |Serves: ~½ cup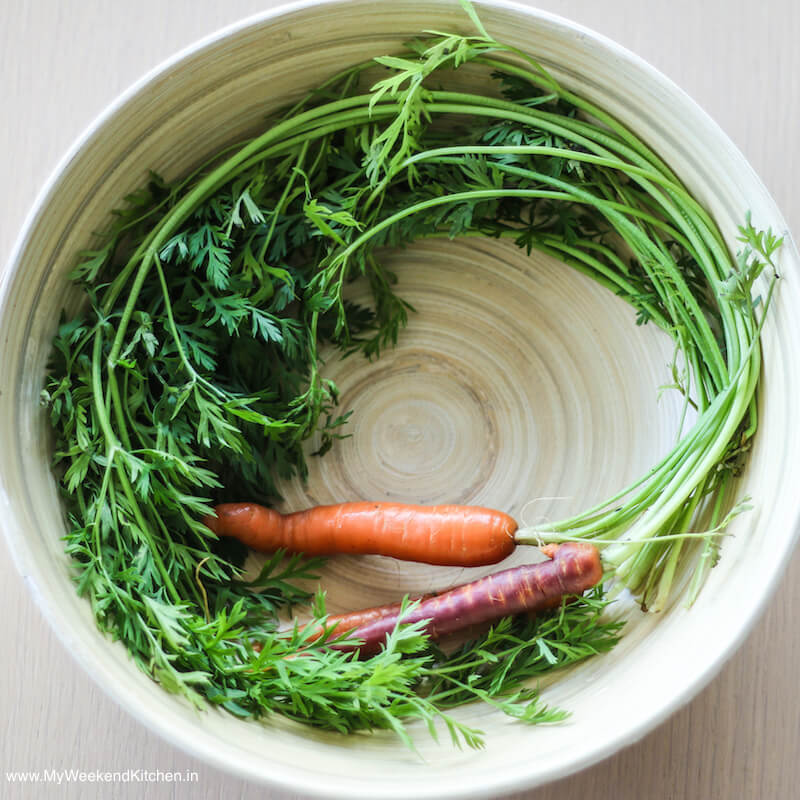 ~1 cup carrot greens (leaves with soft stems from 3 carrots)
1 clove of garlic
2 tbsp olive oil
Juice of half lemon
Salt to taste
Throughly wash the carrot tops under running water and chop. The stems at the end are very hard so I usually keep them for stock and use only the soft part of the stems for the pesto recipe.
Combine all the ingredients in a food processor or blender and pulverize to a smooth consistency. Add more olive oil if needed.
Check the seasoning and use the pesto with anything. Stays good in refrigerator for 2-3 days.
Approximate Nutrition Information for 1 tbsp of Carrot Top Pesto:
Did you try the carrot green pesto? or do you have other recipes that use carrot tops? I would love to hear. Leave a comment or connect with me on Facebook, Twitter, Google+ or Pinterest. Would love to start a conversation, share recipes, cooking experiences and food stories from India and around the world.