Last month I went on a solo 7-day backpacking trip to Cambodia. Finding vegetarian food in Cambodia was such a pleasure. For me food in Cambodia was a true example of "Good Food helping Good Kids". Cambodia has a lot of speciality cafés and restaurants that work with youth from disadvantaged backgrounds. These cafés also called training cafés, provide the youth with sustainable livelihoods through vocational training and better employment.
The fact that the cafés were doing good with food was the primary reason why I went to them for the first time, but I returned to many because the food was just amazing with plenty of vegan and vegetarian options on their menu.
Vegetarian and vegan food in Cambodia – Siem Reap and Phnom Penh
There is so much to see in Cambodia that 7 days doesn't do any justice and since I could not take a longer break, I decided not to rush and visit just two places in this trip. I spent 3 days in Phnom Penh and 4 days in Siam Reap. In those 7 days, I ate at many training cafés as well as other local and popular restaurants too but I had the best food in the training cafés. This is the list of some of my favourite training cafés for great vegetarian food in Siem Ream and Phnom Penh. Remember most of the training cafés close by 6pm so keep them for your breakfast and lunch plans.
Training cafés for vegetarian food in Phnom Penh
Daughters of Cambodia is a delightful cafe. They work with victims of human trafficking, empowering them to start a new life with healing, dignity and employment. When I went there was a training going on where the staff was being trained in identifying different dietary restrictions like gluten-free, vegan, vegetarian etc and provide guests with menu options right away. Which in itself says that they cater very well to all diets. I tried their watermelon salad, fruit smoothie, lemonade and went back to have a pancake breakfast, the day I was leaving. The food is delicious and so is their shop downstairs. It is situated across the Sisowath Quay, with a nice breeze blowing in from the windows and a beautiful view from their balcony.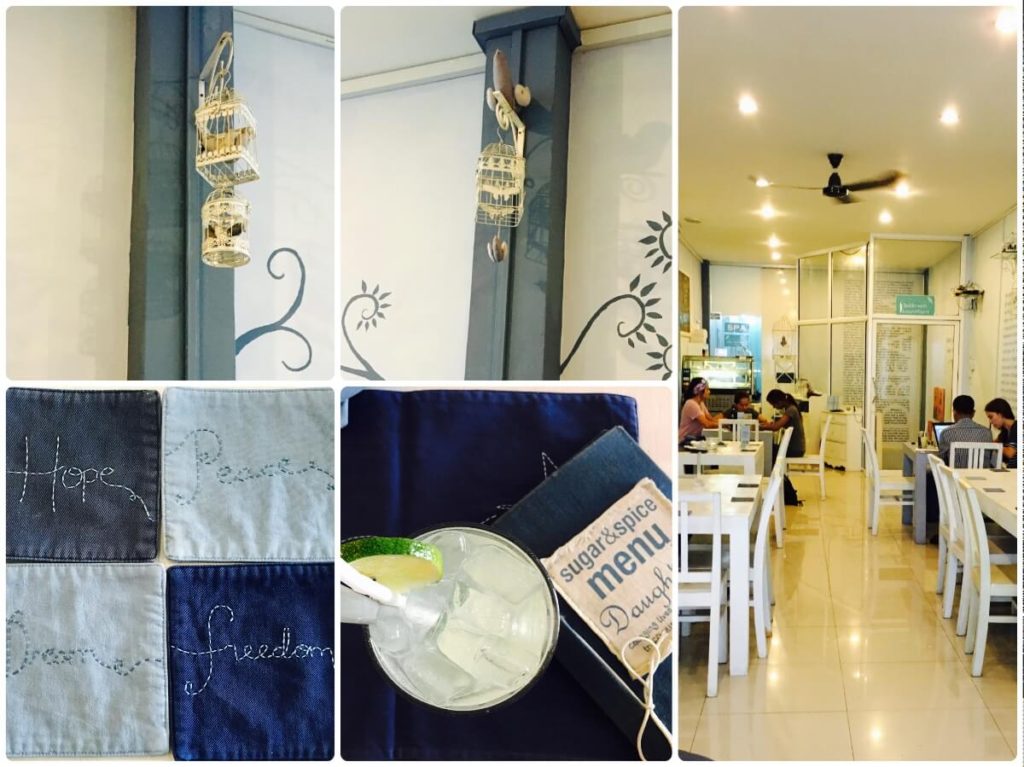 Connecting Hands cafe: Again a very lovely training cafe very close to the river. They also work with young victims of human trafficking and slavery in Cambodia. I crossed Connecting hands one night but it was closed and so I planned my next day such that I could have lunch there. I took a vegetarian burger and mango smoothie. Both very tasty and quite filling. The chickpea patty was nice and spicy and the burger had lots of Moong bean sprouts, which I totally love. I always have sprouted beans at home. The staff was very friendly and always smiling.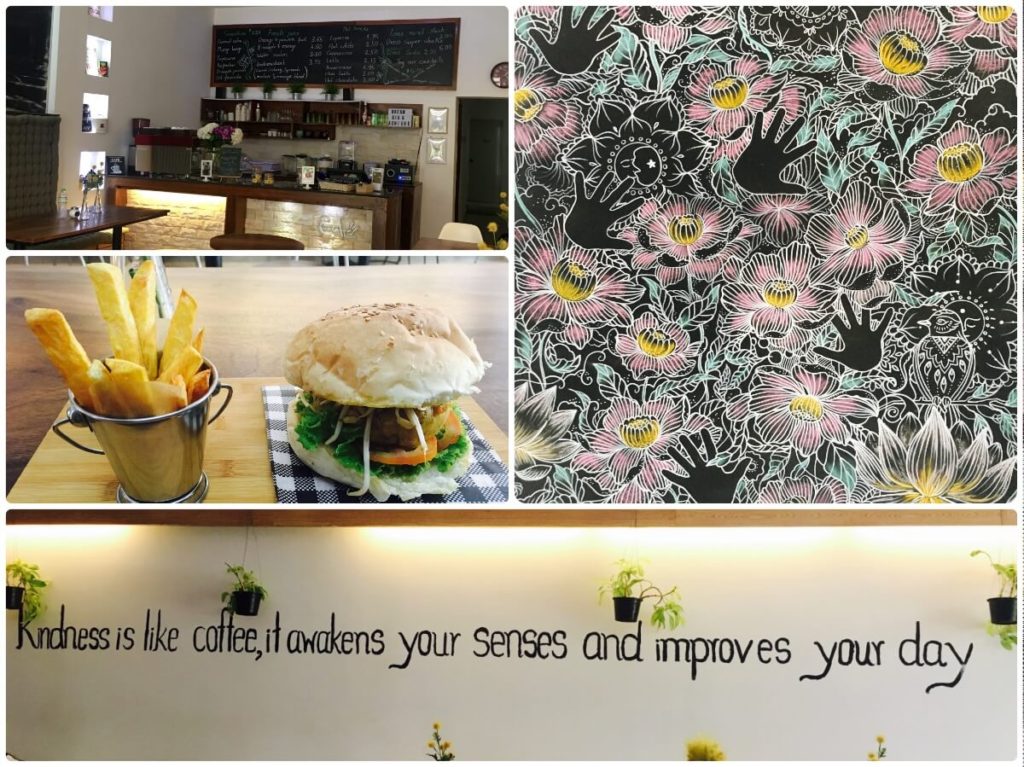 Blooms Cafe: Blooms cafe is like the cherry on the cake except that they are the full cake too! Their Red Velvet Cake was highly recommended and my oh my! it was so moist and so melt in your mouth tasty. They have lovely coffees and smoothies and cupcakes. Not the place to have your main meal but definitely the one for tea-time or desserts. Don't forget to pack and keep some for the night! They have a cafe in Siem Reap too so you have to visit them at both the places!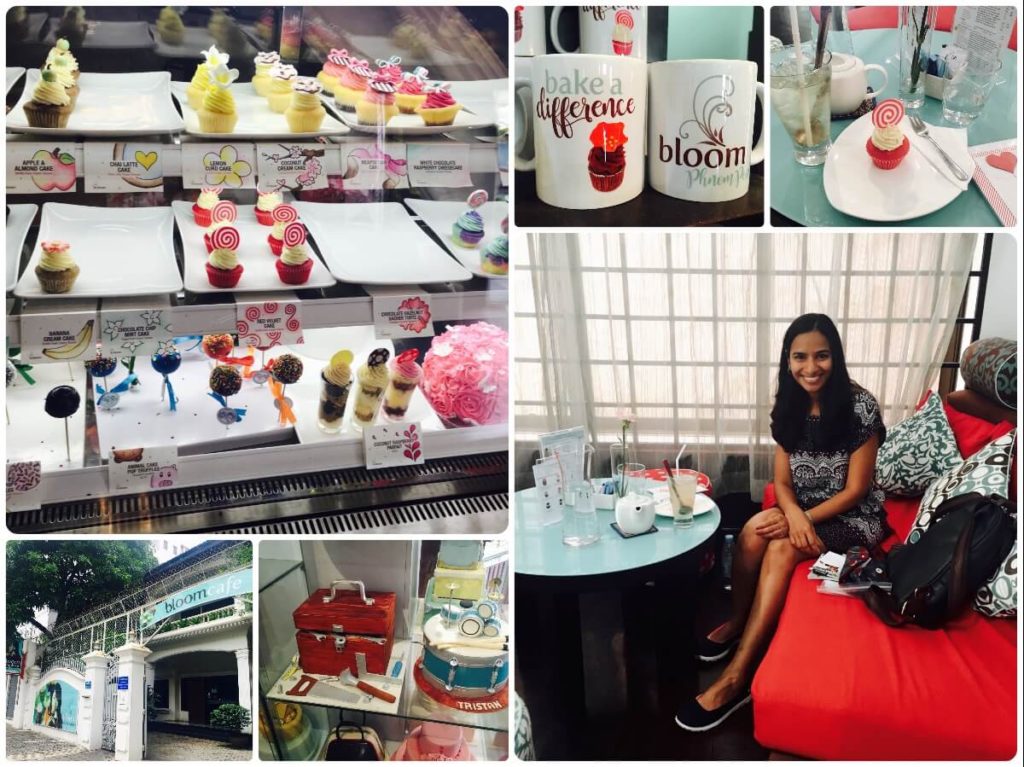 Training Cafes for vegetarian food in Siem Reap
In Siem Reap, I had the most innovative vegetarian dishes of the trip.
In Footprints cafe I ate a flourless pumpkin pancake. It was topped with sautéed apple and bananas with an awesome ginger glaze and hint of cinnamon and vanilla. Just delicious and something I have to definitely try at home. Plenty of salad, noodle and soup choices for gluten-free, vegetarian and vegan options. There is a big wall of books that you can either read there or just buy.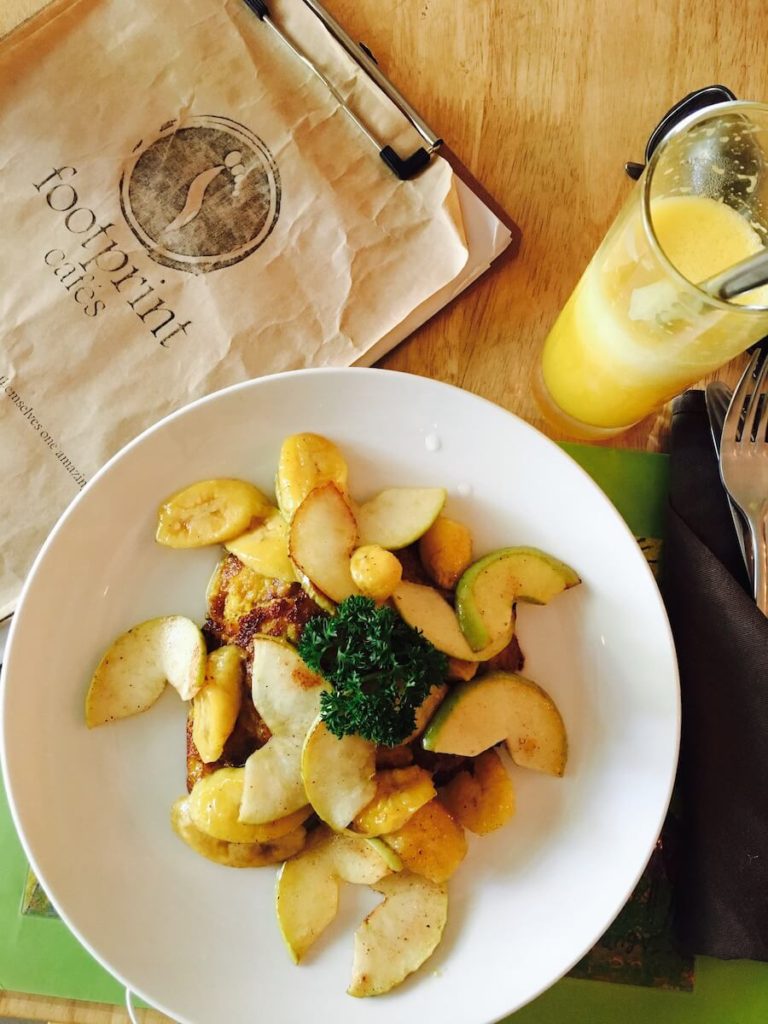 Sister Srey: I went to Sister Srey because many people in my hostel had recommended this one. I thought maybe a nun must have started it and that's why the name but when I met the founder, she was just far-far away from the image of a 'Sister'. And so I had to ask, which is when she told me Srey means sister in Khmer, so Sister Srey cafe is actually "Sister-Sister cafe". She and her sister had opened the cafe 5 years ago. I went there for breakfast before starting my big day at Angkor Wat and told her I was to eat something that will keep me full till lunch with all the walking and climbing. I had this amazing bowl of goodness with red rice, quinoa, veggies, hummus, falafel and a detox smoothie. I can probably call it one more Buddha bowl! The food was awesome but what I loved the most about the cafe was how everyone was genuinely smiling all the time.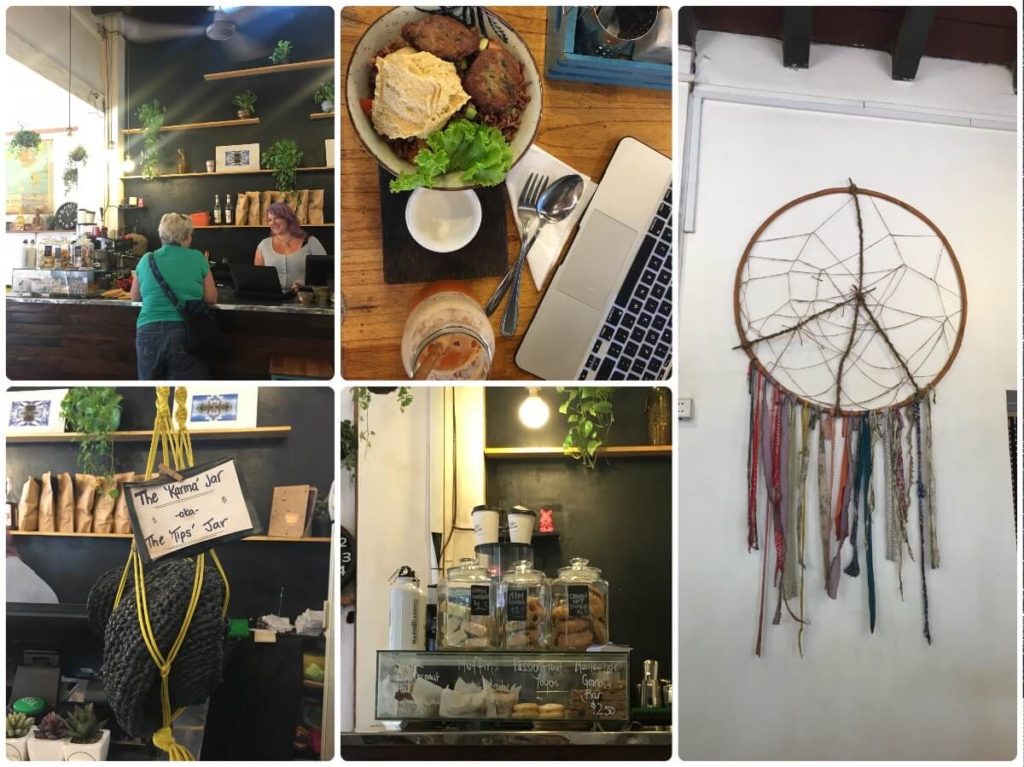 I had such fun finding these cafes, engaging with their employees and most importantly eating in there. Did you enjoy a great vegetarian meal in Cambodia?
Share your recommendations in the comments or connect with me on Facebook, Twitter, Google+ or Pinterest. Would love to start a conversation, share recipes, cooking experiences and food stories from India and around the world.