Morning Glory stir fry is one of the most popular side-dishes I ate during my travels all through South-East Asia. Also known as water spinach, the vegetable is crunchy, juicy and very rich in taste. In this simple 10-min stir fry recipe, just a little garlic and soya sauce is added to compliment its flavours.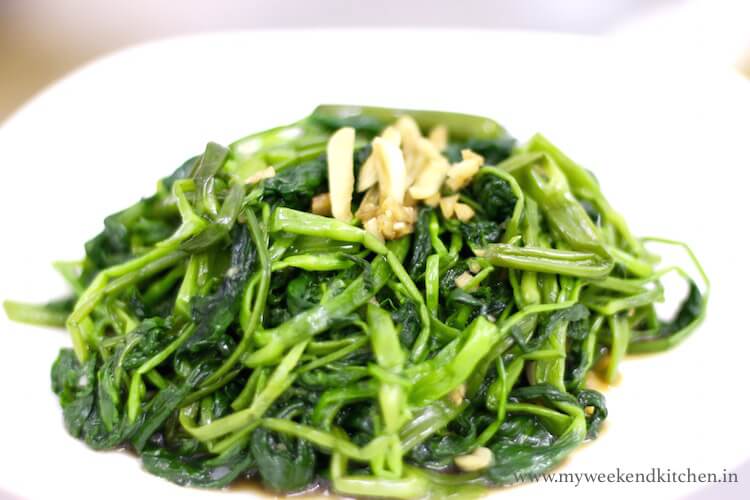 I love South-East Asian recipes. However my exposure was limited to restaurants back home so when we started our South-East Asian travels from Vietnam, on our second day itself we took a cooking class. We had to learn some of the authentic Vietnamese dishes, the first one being Pho of course and also know about the street foods and the dishes we shouldn't miss during our travel. Before we started, Nga (our cooking instructor) sat with us to understand our food preferences which at that point were a bit constrained as we were on a gluten-free and vegan diet. To our delight that wasn't a problem at all as many of their dishes are gluten-free and vegan.
Morning Glory stir-fry was the first dish she suggested. It is a dish one finds on the streets as well as in fancy restaurants. The vegetable can be eaten raw in salads as well as cooked and is a staple in every Vietnamese household because of its many health benefits.
Morning Glory vegetable stir-fry / Water Spinach stir fry recipe
Preparation time: |Cooking Time: |Serves: 2
1 bunch (~400g) morning glory vegetable (Water spinach/Chinese spinach)
4-5 garlic cloves, smashed with the back of a big knife
1 tsp soya sauce (soya sauce usually has gluten in it. Check for gluten-free on the label.)
1 tbsp rice bran oil (or a knob of butter)
1 tbsp lime juice
3 cups of water
Wash the morning glory greens under running water until it runs clear. Cut the roots if required.
Bring 3 cups of water to boil
Blanch the greens in boiling water for just about a minute. We don't want the greens to lose their crunchiness or the bright colour. Immediately drain and run under cold water to stop the cooking process.
Heat oil in a wok or a shallow pan. Add the smashed garlic cloves and sauté till they just start to turn brown.
Add the blanched water spinach, soya sauce and lime juice.
Mix well such that the vegetable is coated with the sauce. Cook for about a couple of minutes. It doesn't take long for morning glory to get to that fine texture of tender-crisp.
Remove from wok into the serving plate immediately.
Nutrition information (per serving):
72 calories, 2.4 grams fat
Source: Very Well
Health benefits of morning glory vegetable
Morning glory plant grows in rice paddies and needs a lot of water. It has a very high water and fibre content. It is rich in iron, proteins and vitamins A,B and C. Nga said "it is great during pregnancy"!.
Outside of South-East Asia, water spinach (or Chinese spinach, another name for it) is usually available in Asian vegetable markets, but the same stir-fry recipe can be used with other greens like spinach, kale and cabbage.
Note: There is a difference between Morning Glory Vegetable and Morning Glory flower:
Morning Glory vegetable grows in farms with lots of water. It has long thin stems with arrow shaped leaves. Morning Glory Flower is a climber with heart shaped leaves. The flowers open up first thing in the morning, hence the name. Morning glory flowers and seeds are not actually edible.