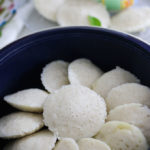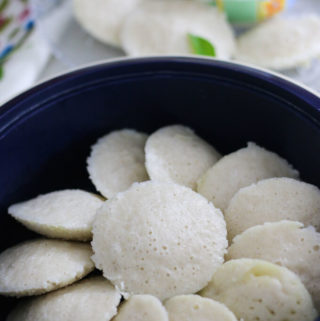 Print Recipe
Rice Idli recipe & homemade Idli batter
A simple recipe to make the traditional rice idli with homemade idli batter using rice and urad lentil. Light, simple and healthy it is enjoyed as an all-day breakfast dish with hot sambar and chutneys.
How to make the Rice Idli Batter
Wash the rice and dal separately. Soak them, separately, in enough water for 4-5 hours or overnight.

Drain the rice and with little water, grind them to a coarse paste in the mixer.

Drain the dal and again adding water little by little, grind it to a fine paste. While the rice paste is coarse, the lentil paste is very fine. Grind it till there are bubbles in the paste. Add water accordingly but not too much.

Mix together the rice and lentil paste. Add in salt. This batter should be of thick dropping consistency. Keep the batter in a warm place for 8-10 hours (or overnight). The batter will rise and become sour.

This entire passive process takes about 24 hours or so.
How to make Idli
Drop spoonfuls of batter in each mould. Add about 1" deep water in your idli steamer. Place the idli stand in the steamer and close. Steam on high for 5 minutes.

Reduce heat and steam on low for 10 minutes. Open the steamer carefully and check the idli by inserting a clean knife. If the knife comes out clean, idli is done. Else steam for another couple of minutes.

Remove the steamer from heat and let it stand for 5 minutes. Open and remove the idlis from the mould with a knife.
Once fermented, the batter stays good in refrigerator for 2-3 days.
For a variation, add chopped/grated carrots, onions, peas, or capsicum etc to the batter when steaming.
Calories:
173
kcal
|
Carbohydrates:
35.7
g
|
Protein:
3.6
g
|
Fat:
1.6
g
|
Saturated Fat:
0.2
g
|
Fiber:
1.9
g