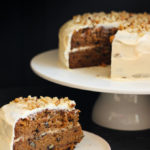 Print Recipe
Best Carrot Cake Recipe
This is the BEST Carrot Cake with a super easy recipe! I honestly have not tasted a more delicious, and moist carrot cake than this one. Most carrot cakes tend to be a bit heavy and dry — not this one. It is made with 100% wholewheat flour. It's perfectly sweet with a moist base and a delicious cream cheese frosting.
Carrot Cake Mix
3

cups

grated carrots

(from 3-4 large carrots or ~250g)

1

apple

(~130g)

1

cup

crushed walnuts

(120g, divided)

2¼

cups

whole wheat flour

(300 g)

1

tbsp

baking powder

1

tsp

baking soda

1

pinch

salt

2

tsp

cinnamon powder

1

tsp

ginger powder

¼

tsp

nutmeg powder

1

tbsp

vanilla extract

1

cup

vegetable oil

(240ml, use any unflavored variety. I used sunflower oil)

2

cups

brown sugar

, lightly packed (300g)

4

medium eggs
For Cream Cheese Frosting
Prepare the cake tins by lining with parchment paper. I made one large, 2-layer 8" round cake and one small, singe-layer 6" round cake. Preheat oven to 180ºC (356ºF; gas mark 4)

To make the applesauce: Peel and chop the apple into small chunks. Add to a small saucepan with about ¼ cup water and cook for 10 mins till it's soft. Remove from heat and purée with a blender or simply mash with a fork.

Peel and grate the carrots. Chop the walnuts. Keep aside.

Dry Ingredients: In a mixing bowl, sift together flour, baking powder, baking soda, salt, cinnamon powder, ginger powder, and nutmeg powder.

Wet Ingredients: In another mixing bowl, beat together oil, applesauce, vanilla extract, and brown sugar for 2-3 mins on medium speed. Whisk in eggs, one at a time, until well combined.

Add the dry ingredients mixture to the wet mix, little by little, combining then well until the batter is smooth. Keep scraping the batter from the sides of the bowl while mixing.

Fold in the grated carrots and ¾ of chopped walnuts. Divide the batter into the prepared cake tins. Bake in the middle rack for 40-50 mins till a toothpick inserted in the center of the cake comes out clean.*

Remove the cake from the oven and let it cool for 10 miss before removing from the pan. To remove loosen the sides and then open the springform. We ate the 6" cake as is without any frosting. Transfer the large cake on the serving platter. Let cool completely for another 30 mins.
To prepare the Cream cheese Carrot cake frosting:
Beat together cream cheese, butter, vanilla extract, and icing sugar until smooth and well combined.

Slice the cake in half from the center.**

Add a generous amount of frosting on top of the bottom layer and then top with the remaining half of the cake.

Spread the frosting on top and all around on the sides of the cake.

Sprinkle the reserved chopped walnuts. Serve Beautifully!
*I made one large 8" cake and one small 6" cake. Thapplesaucecake takes much less time and was baked within 30 mins.
** you can also use two 8" cake pans to make two separate single layer cakes and then stack them to make the 2-layer cake.
Calories:
252
kcal
|
Carbohydrates:
25.1
g
|
Protein:
3.7
g
|
Fat:
16.1
g
|
Saturated Fat:
4.1
g
|
Fiber:
2.1
g
|
Sugar:
15.2
g