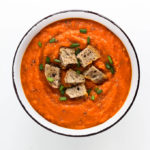 Print Recipe
Spicy Roast Pumpkin Soup Recipe
This spicy roast pumpkin soup recipe is all about easy winter dinners. Sweet roasted pumpkin with warm winter spices, it is truly a comfort in the bowl. Most of the cooking is passive and all you need to do is enjoy the soup at the end of it!
Cut the pumpkin into small pieces. In a large bowl, toss the pumpkin with 1.5 tbsp olive oil, salt, and pepper. Arrange in a baking pan and sprinkle some fresh rosemary.

Roast (under the oven grill) for 15-20 minutes until soft. Turn the pumpkins at about the 10 minute mark for even cooking.

While the pumpkins are roasting, heat remaining oil in a deep stock pot. Add onions, ginger, and garlic. Sauté for a couple of minutes.

Add the vegetable stock, cinnamon, star anise, and cloves. Mix well and bring to a boil. Reduce the heat to low and continue simmering.

Once the pumpkins are done, add the pumpkins along with their juices to the stock pot and simmer for 5 minutes.

Remove from heat, discard the cinnamon stick and star anise.

Using an immersion blender, blend the soup until smooth. Or wait till the soup has cooled down a bit and then transfer in small batches to a traditional mixer and blend until smooth.

Garnish with homemade croutons and spring onion greens. Enjoy hot.
I've used homemade vegetable stock. You can also use stock cubes and 1-litre water.
Optional Garnishes/ Variations:

Stir in coconut cream after blending the soup.
Add toasted pumpkin seeds
Calories:
271
kcal
|
Carbohydrates:
49.4
g
|
Protein:
7.1
g
|
Fat:
8.6
g
|
Saturated Fat:
1.8
g
|
Fiber:
17
g
|
Sugar:
20.7
g