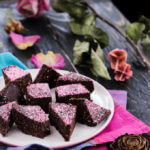 Print Recipe
Homemade Milk Chocolate
Easy homemade chocolate recipe with just 5 ingredients and lots of love. In these, I used desiccated coconut for flavoring, but you can choose any flavors from plain chocolate to different nuts or fresh fruit peels! They are also perfect as gifts for any occasion.
Servings:
10
bars of 100g each
Place water and sugar in a big pot. Put on medium-high heat and boil till the syrup is thick. Usually 15 mins.

In a separate bowl, sift together milk powder and cocoa and keep aside.

Once the sugar syrup is thick, add butter to it and mix well till the butter melts.

Slowly add the butter and sugar syrup wet mixture to the milk and cacao dry ingredient. Mix it really well till everything is well incorporated. At this point add any other flavoring you may like desiccated coconut or chopped walnuts, raisins, almonds etc.

Line a baking tray with cling film (makes it easier to remove the chocolate after it has set).

Pour over the chocolate mixture. In case of coconut chocolate, sprinkle some more desiccated coconut on top of the chocolate and press it down softly into the mixture.

Set in fridge for at least 8-10 hours.

Dip a knife in hot water and smoothly cut through the set chocolate.

Enjoy!
Experiment with different flavors! You can add orange or lemon peels. Chopped nuts are the easiest. If you are adding chopped nuts to the mix, sprinkle some on the tray before pouring in the chocolate mix, so that you have some on the outside too.
The recipe makes about 1kg of chocolate. Nutrition Info is for 100gms of chocolate.
Calories:
396
kcal
|
Carbohydrates:
56.9
g
|
Protein:
15.6
g
|
Fat:
13.4
g
|
Saturated Fat:
8.3
g
|
Fiber:
3.3
g
|
Sugar:
51.7
g