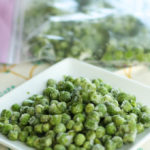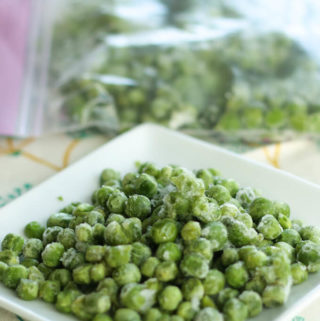 Print Recipe
How to preserve green peas | Frozen peas
An easy recipe to home preserve fresh green peas. Frozen peas are great when peas are out of season and/ or when you need green peas immediately. While they are easily available in shops, home preserved frozen peas are healthier and tastier.
2

kg

fresh green peas

1

tbsp

salt

1

tsp

sugar

8

cups

water
Shell the peas and discard any peas that have gone bad. 2 Kgs of peas will yield about 1 kg after shelling.

Wash the shelled peas under running water.

In a big pot, add water, salt and sugar. Bring the water to boil.

Add the peas and bring to a boil again. Blanch the peas for just about 2 more minutes.

Drain and wash under cold water to stop the cooking process.

Keep aside to cool completely.

Once cooled, pack them in smaller batches in freezer bags for use whenever needed!
If you are preserving a big batch of peas, it is better to boil them in parts rather than all together. This would ensure they get evenly cooked.Don't boil for too long else the peas will lose their colour and will shrivel up.
Choose the peas while in the middle of the season. Peas at the beginning and end of season aren't very sweet.
To use, take out the required quantity, wash under running water and use as required. Alternatively wait till the peas come to room temperature. Since the peas are already cooked, add them towards the end of your recipe.
Nutritional information is for 100 gms serving
Serving:
100
g
|
Calories:
81
kcal
|
Carbohydrates:
14.5
g
|
Protein:
5.4
g
|
Fat:
0.4
g
|
Fiber:
5.1
g
|
Sugar:
5.7
g