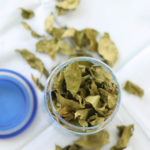 Print Recipe
How to dry and preserve Indian curry leaves
Curry leaves add a wonderful aroma and flavour to Indian dals and curries. You can also make a chutney or dip with them. While fresh curry leaves are abundantly found in India, if you live outside India or at places in India where they are not found so often, you can always dry and preserve fresh curry leaves. Just follow these simple steps.
2

cups

fresh curry leaves
Remove the leaves from the stalk and wash them thoroughly in a colander.

Place the wet leaves on a kitchen towel and gently pat them with the towel to remove excess water.

Place the leaves on a large tray or thali and spread them in a single layer. Place the tray in a cool shade inside your home and leave them to dry. Cover with a thin cloth if there is dust.

Depending on the weather, the leaves will dry in 2-3 days. It is important to dry them in shade to retain as much flavour. Sun drying is faster but will result in loosing most of the flavour and aroma.

Once dried, store the dry and crisp curry leaves in an air-tight container and use it whenever needed just like fresh curry leaves. You can also pack them and send them as gifts to your family and friends who live outside India!

Dried curry leaves will crumble very easily, so store them in a big container.
Few things to take care when drying to ensure maximum flavour in the dried leaves:

Start with the freshest curry leaves. It would be ideal if you can pluck them right off a tree. If you are buying from a vendor, buy the freshest curry leaves he has, no more than a day old.
wash properly
dry in shade