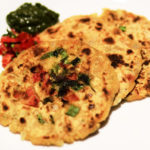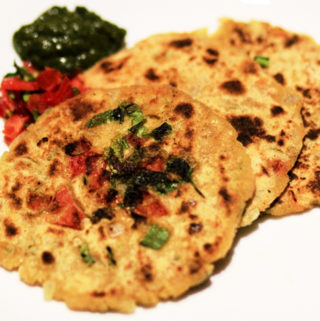 Print Recipe
Pyaaz Tamatar Tikkad/ Spicy Missi Roti
Pyaaz tamatar ka tikkad is like a spicy corn bread with onions and tomatoes. It is a popular flat Indian bread from the dessert areas of Rajasthan and Gujarat. Onion, tomato, chilli, ginger-garlic and spices are kneaded into corn meal to make a firm dough and a coarse roti is rolled out by hand and cooked on a pan.
¾

cup

makai ka aata/corn meal

this is not the cornflour used as thickening agent but coarse cornmeal

¼

cup

whole wheat flour

1

onion

finely chopped

1

tomato

deseeded and finely chopped

3

cloves

garlic

grated

1

inch

ginger piece

grated

1

green chilli

finely chopped (more if you like them hot!)

3-4

sprigs of fresh coriander leaves

finely chopped

A pinch of asafoetida

Salt to taste

2-3

tbsp

Ghee

use oil for vegan preparation for cooking the tikkad

Warm water for kneading the dough
In a bowl mix together corn flour, wheat flour, salt and asafoetida.

Add the chopped ingredients (reserve about a third of chopped tomatoes, chillies and coriander to use as toppings later on). Mix them together, just using your fingers. It will be a soft crumbly mixture.

Add water, little by little, and knead the flour into a soft dough.

Divide the dough into 8 portions and shape into balls.

Dust your kitchen surface or chakla with a little dry flour. Take one dough ball and roll it into a circle with your fingers. You can put a little oil on your fingers and gently press the dough and roll it in a circle of about 5 inches.

Sprinkle some reserved tomato, chilli and coriander on the tikkad. Press them in slightly with your hands.

Heat a tava and add some ghee. Cook the tikkad on the tava from both sides until it gets crispy and golden. I love the golden brown spots that come on it!

Repeat with the remaining dough balls and serve with spiced yogurt or coriander chutney!
For gluten free tikkads, use 1 cup cornmeal and no wheat.
Cook with oil instead of ghee for vegan restrictions.
All the veggies should be very finely chopped so they can be easily kneaded into the dough.