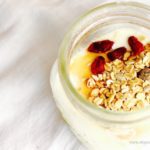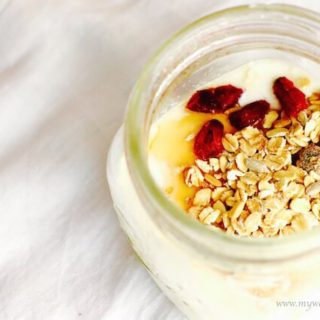 Print Recipe
How to make Yogurt at home without a yogurt Maker
Making yogurt at home is very easy and needs no special equipment. All that is needed for homemade yogurt is milk, a little starter yogurt and patience. I hope the step-by-step pictures are helpful.
In a sauce pan, bring milk to a boil and then keep it aside for 10-15 mins until it is lukewarm. You may choose not to boil the milk but just warm it till it is lukewarm. My test for temperature is to put my finger in milk and if I can keep it in the milk for 10 seconds it is good.

Take 2 tbsp of starter yogurt and spread on the inside of a bowl. I use a ceramic bowl for setting yogurt but you can use a glass or steel pot as well. If the weather is very cold, warm your pot by keeping it in microwave for 30 seconds at medium power.

Pour in the lukewarm milk. Mix well so that the yogurt is mixed in evenly.

Cover with a lid and then enclose in a tea towel and leave the pot undisturbed in a warm place.

When the yogurt is set, remove the tea towel and keep the bowl in fridge. It stays good for upto 2 days and after which it will start to become sour which is perfect if you want to make some delicious kadhi!
The time taken for yogurt to set will depend on the ambient room temperature. In temperatures around 30ºC, it takes about 4 hours for yogurt to set. Start checking the pot after 4 hours, every half hour to see if it has set. If you keep it outside for long, the yogurt will start to become sour.
In Abu Dhabi, where the temperatures are very high, it used to take just about 3 hours for the yogurt to set. In Scotland on the other hand where it used to be cold most year round, I used to preheat the oven to about 50ºC and then switch it off before putting in the yogurt inside the warm oven overnight.
You can also make flavoured yogurt by adding sugar, vanilla or fruit extract of your choice to the lukewarm milk.
I feel food is the best gift. Quite often I set yogurt in small glass bottles (recycled from jam/ mayonnaise etc) and leave it at my neighbours' doorsteps as a little delight :).